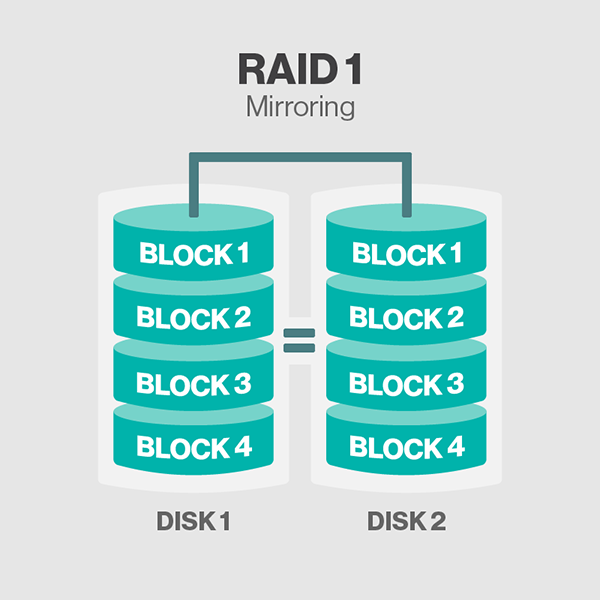 Different RAID configurations are meant for different performance and storage needs. RAID 1 is used for redundancy and not performance. RAID 1 is the most independent RAID configuration allowing user for less attention on the system. RAID 1 is usually known as mirroring.
RAID 1 uses an even number of hard drives for the configuration to use the mirroring feature. Mirroring the drives on each other fulfills the purpose of stability. If your RAID 1 configuration has 2 drives in it then if one drive fails then the data is still intact on the other one.
Today when we talk about RAID configurations most people will assume that data loss on RAID configuration is impossible and the main concern about RAID configuration is that it shouldn't be left unmonitored. People thinking about not losing the data will stop monitoring RAID system leading one to multiple drive failures. For example, if your system has a RAID 1 configuration with 2 hard drives and one of them fails and you have stopped monitoring the device. It will lead another drive to fail in coming times leading a big data loss crisis.
If your business cannot afford any downtime because of data loss and need stability and redundancy then RAID 1 is a perfect solution for you. If your RAID array has failed hard drive and not rebuilding then you should stop using the system right away. Shut down the device and note down the hard drive order. Collect all the other documents and details about your RAID system contact Geeks at Help immediately. Geeks at Help can recover your data instantly. We have recovered data from all kind of server and NAS systems and all type of RAID array. Call us for the free diagnosis and evaluation.
Geeks@Help Data Recovery Dubai
Average rating:
18 reviews
Aug 31, 2019
Best data recovery
My Hard drive suddenly stopped working. I brought my hard drive to this experts and they recovered all my data at a good cost. Excellent Service.
Aug 29, 2019
Data Recovery
Excellent work by geeksathelp. Technicians are knowledgeable and professional in recovering data. I am satisfied for what I paid. All my data was recovered. Thanks again.
Aug 29, 2019
Mac data recovery
I lost some files on my mac. I find geeksathelp on google and I brought my mac to their service center. They put my Mac on scanning and within half n hour they find my file which I have deleted. Thanks a lot, I will recommend to all.
Aug 27, 2019
Hard drive data recovery
Geeksathelp has done an amazing job. My hard drive was dropped and it was not working any more. They have recover all my files in just two day. Good job
Aug 25, 2019
SSD Recovery
Wow! They delivered what they promised. Recovered my complete data in just 1 day. Price was also cheap than others.
Page 1 of 5:
«
‹
1
2
3
4
5
›
»
More Related Posts