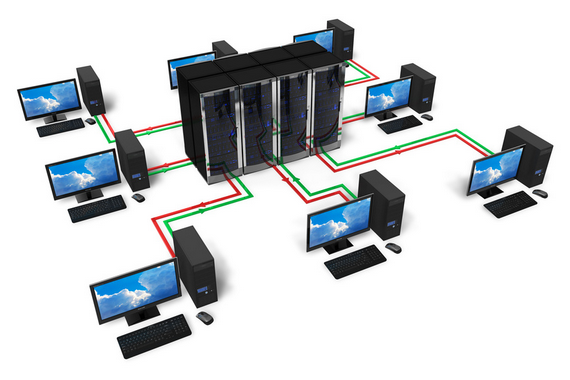 We Can Recover Data from Your Failed Server
When a file server of any type goes down, you may have unique data, or data that may require hundreds or even thousands of man hours to re-create.
Just because you can't access the data, doesn't mean it' forever deleted. However, if the data is recoverable in the end, is largely dependent upon what do you do when the server breaks down. The less you do, the more the chances are to recover your data.
We are data recovery experts.  That is all we do.  We specialize in data recovery from damaged servers and we can restore your data and get you back up and running as fast as possible. Wen support all file systems and server configurations. We support virtual machines too.
How We Recover Data from File Servers
When your server fails, do nothing! The less you use it the more your chances for a successful recovery will be. Most of the times reason for unrecoverable data from servers and RAID arrays is human error. If your file server crashes, just turn it off.
Our process is reliable and simple, and definite to get your data recovered…
We start by examining server and check what actually failed. Our first evaluation is absolutely FREE!
Once evaluation is over we provide you the quote for the recovery cost, if you approve, and your database server has more than 6 drives there would be a non-refundable deposit charged that varies depending on the full size of the array. This is the only scenario where we charge a non-refundable analysis fee on RAID arrays or file server recoveries.
Once you approve to proceed, we then create sector-by-sector image of each drive inside the server. From that point on, we are working with imaged copies. This is done to keep the reliability of the original data, and to assure it is not changed in any way.
Once the imaging process is completed we then start rebuilding the data structure. In RAID arrays this means we rebuild the stripe, and then restripe to a single image
When we have the restriped image we can then rebuild the file system logically and pull the wanted data from that rebuilt data stream.
After the data is recovered, we can transfer the data to an external hard drive which can then be shipped back to you.
Common File Server Issues
If your file server has crashed, there are many likelihoods as to what may have caused the failure. A server crash can be caused by any of the following:
Viruses
Human error
Bad configuration files
Hard drive failures / Media failure
Controller failures
Corruption within the boot sector
Operating system failure
Firmware updates
Software updates
New software installations
More Related Posts
Data Recovery Dubai | Recover Data from Physically Damaged Hard Drive
Average rating:
0 reviews