LOST DATA…WE ARE EXPERTS, CALL US!
Real Labs.
Real Engineers.
Real Data Recovery.
Hard disk drives

Servers

RAIDs

NAS/SAN

USB / Flash

Virtual

machines
17 years of
Data Recovery in Dubai
Hard disk drives

Servers

RAIDs

NAS/SAN

USB / Flash

Virtual

machines
No Data Recovery
No Recovery Charges!
In the unexpected circumstance that we're not able to get back your data, we will not bill you a single dirham!
External Hard Drive Data Recovery Dubai
We have 98% success rate in External Hard Drive Recovery!
External (USB) hard drive or portable hard drives comprise an enclosure made up of a typical hard disk having a USB interface adapter. Hence, these kinds of products are susceptible to all the common problems associated with hard drives as well as others that the external enclosure and interface may contribute. Portable external hard drives are usually dropped or toppled over, this almost always triggers a physical fault of some sort and leads to the hard drive making a ticking sound if it is next powered on. Retrieving the information from portable hard drives with defects similar to this is possible when the precise fault has been identified and the storage device has been accurately repaired.
Brands of external hard drives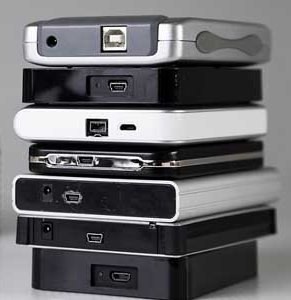 Geeks@Help are able to fix and recover data from:
LaCie (eg. Big Disk, Bigger Disk, Bigger Disk Extreme, Quadra etc)
Western Digital (eg. MyPassport, MyBook, Slim and Ultra)
Seagate (eg. Expansion, FreeAgent and Backup Plus)
Iomega
Maxtor (eg. OneTouch)
Toshiba (eg. Canvio and STOR.E)
All types of "Rugged" external hard drives
External Hard Disk Drive Problems:
A couple of the most frequent problems we have observed with portable hard drives are:
Shock Damage: The drives get toppled over, dropped, bumped etc. In nearly all cases, the causing impact they go through will cause issues.
Excessive heating: The drives usually tend to overheat. This is because insufficient ventilation within the external cover. Some portable hard drives don't feature any air flow system at all, a few devices may include a fan inside the actual enclosure to overcome temperature accumulation.
Symptoms of failed hard drive:
If the hard drive is dropped:
The drive probably will make a ticking noise when powered on. Normally, this is a sign of damage to the read/write heads &/or the motor. Retrieval of data is often possible
If hard drive is Bumped:
The drive will make a humming noise – generally a sign of a seized spindle. Data is almost often recoverable.
In case the disk drive is Over-heating:
The drive will all of a sudden stop functioning and not be recognized in the BIOS, or the system will appear to begin functioning slowly and unusual noises from the external hard drive can be heard.
If hard drive not spinning:
Regrettably, there is not anything you can do on your own once you've got a hard drive that is not spinning. That is because there's not anything you can do in order to fix your hard disk or substitute anything that is broken inside it.
What exactly can you do if you've got plenty of documents in your hard drive, whether it is your computer's internal hard drive or an external hard disk that you did not have backed up? Are your data gone forever?
Not exactly. There is still a chance you'll be able to get your information back and that is by sending your hard drive to a professional data recovery laboratory. Luckily for you, GeeksatHelp has been at the business of reuniting people like you along with your information for more than 12 years.
External Hard Drive Recovery Options:
Totally dependent on the nature of the condition. Heat associated problems are generally simpler to correct than shock damage issues.
Do Not:
Under no circumstances should you continue to use the external hard drive as you may possibly cause even more damage to the device. Also, you must not allow the system to perform a repair utility on the drive (in particular Chkdsk / Scandisk / Defragmenter etc) – this will often make recoverable data unrecoverable.
What if I have one of these hard drives however the symptoms are different?:
This is very much possible. These drives remain vulnerable to all the other problems hard drives are affected by ie. logical failure,
mechanical failure, bad sectors, etc. Look at our regular types of hard drive failure page.
What must i do?:
Call the Geeks@Help and speak your problem through with us on +971-52-7857786, or fill in our Contact Form and we will call you back.
Geeks@Help External Hard Drive Recovery
Average rating:
4 reviews
Jun 20, 2020
Data Recovery
Compared to other company charges for data recovery, Geeksathelp charges are affordable.
Jun 14, 2020
If there is an option for 6 star, then these guys deserves it. Recover my most important data from my external hard drive which was dropped down and broken from inside.
May 27, 2020
Hard drive data recovery
Geeksathelp has done an amazing job. My hard drive was dropped and it was not working any more. They have recover all my files in just two day. Good job
May 8, 2020
Data Recovery From External Drive
I have no words to thanks Geeksathelp. Thanks for recovering my life time data.
Why people Choose us as their first choice for Data Recovery in Dubai:
Affordable Pricing:
Request a quote to receive a price estimate, which includes free in-house diagnostics and evaluation. Data recovery pricing is calculated based on your media type, capacity and circumstances of failure.
Free Diagnostics and Evaluation:
We provides free diagnostics and evaluation. There are no strings or hidden fees attached. Send your media and have our engineers provide you with an accurate diagnostics.
No Data, No Charge:
Data Recovery Experts follows a strict no recovery, no charge policy.
Which means: no risk and satisfaction guaranteed. You only pay per successful recovery and only if you are satisfied with the results.
Recovery from ANY Media Type:
We specializes in data recovery from all types of storage media. We are capable in recovery data from media with logical, electrical, mechanical and physical problems alike.
DO NOT WASTE TIME… WE ARE EXPERTS